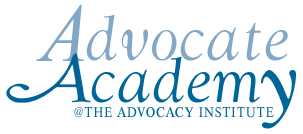 The Power of Section 504
Conducted December 13, 2006

Presenter: Claudia Lowe, J.D., SENC

Webinar Archives and Materials

Webinar Archive*: This is the Archive of the December 13, 2006 Webinar. (1 hr., 32 minutes in length) (Note: Playing archives requires FLASH to be installed on your computer.You can start, stop, pause, fast forward or rewind the recording using the controls on the ReadyTalk player.)

Sample 504 Plan: This is a sample form for an individualized 504 plan, designed by Claudia Lowe. (PDF, 10 pgs.)

Please note: This Webinar presentation predates the changes made to Section 504 by the Americans with Disabilities Act Amendments Act. These changes are substantial! Please see this Webinar archive for important information:

Unraveling the 504 Maze: Information and Strategies for Special Education Advocates: Webinar conducted December 7, 2011

Additional Resource:


Understanding the Americans with Disabilities Act Amendments Act (ADAAA) and Section 504. This Parent Advocacy Brief from the National Center for Learning Disabilities explains the changes brought about by the ADAAA, how they apply to Section 504, and how these changes may impact children with disabilities, including learning disabilities, as well as other conditions such as Attention-Deficit/ Hyperactivity Disorder (AD/HD), Aspergers Syndrome, diabetes, asthma, and life-threatening food allergies. Get it here. (PDF, 11 pgs.)

*PLEASE NOTE: These materials are for the exclusive use of purchasers of Advocate Academy Webinar live events and archives. Please do not distribute or provide others with access to these materials. Thank you.