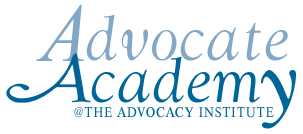 Understanding Assessments:
Emotional and Behavioral Evaluation Data

Conducted November 7, 2007
Presenter: Alan Brue, Ph.D.
Alan Brue, Ph.D.

School Psychologist,
Bartow County School District, GA

Co-author, "A Parent's Guide to Special Education: Insider Advice on How to Navigate the System and Help Your Child Succeed"
(More about the book)
Webinar Materials and Archive
Webinar Archive*: This is the recording of the live event conducted November 7, 2007. It is 1 hour, 30 minutes in length. You can start, stop, pause, fast forward or rewind the recording using the controls on the ReadyTalk player. (Note: Playing the archive requires FLASH Player to be installed on your computer.)
Webinar PowerPoint Presentation Handout*: This is the Handout for the Webinar presentation on Understanding Assessments: Behavioral and Emotional Evaluation Data. (PDF, 27 pgs.)
*PLEASE NOTE: These materials are for the exclusive use of purchasers of Advocate Academy Webinar live events and archives. Please do not distribute or provide others with access to these materials. Thank you.