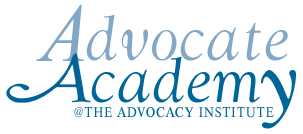 Response-to-Intervention:
What Special Education Advocates Need to Know
Conducted on October 19, 2006
Presenter: Daryl Mellard, Ph.D.
Webinar Materials and Archive
Webinar Archive*: This is the archive of the Webinar conducted October 19, 2006. The archive is 1 hr., 20 minutes in length. You can start, stop, pause, fast forward or rewind the recording using the controls on the ReadyTalk player. (Note: Playing the archive requires FLASH to be installed on your computer.)
A Parent's Guide to Response-to-Intervention: This guide, written by The Advocacy Institute for the National Center for Learning Disabilities, provides an overview of RTI, including benefits and limitations, case studies and questions to ask. (PDF, 12 pgs.)
Critical Characteristics of a Three Tiered Model Applied to Reading Interventions: This is an overview of RTI by Catherine Christo of Cal State University at Sacramento. It includes an outstanding review of the various methods used for progress monitoring. (PDF, 15 pgs.)
RTI Resources for Advocates: This is a listing of pertinent resources regarding the research on RTI as a component of SLD identification. (PDF, 2 pgs.)
SLD Eligibility: A User's Guide to the New Regulations: This is an overview of the federal regulations regarding SLD identification prepared by Perry A. Zirkel, professor of education and law at Lehigh University, for the NRCLD. (PDF, 4 pgs.)
Protections for children not determined eligible for special education and related services: This is §300.534 of IDEA 2004 federal regulations and pertinent comments by USED regarding protections for students not eligible under the IDEA, including students receiving Early Intervening Services (EIS). (PDF, 2 pgs)
*PLEASE NOTE: These materials are for the exclusive use of purchasers of Advocate Academy Webinar live events and archives. Please do not distribute or provide others with access to these materials. Thank you.